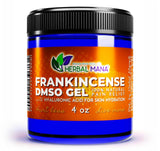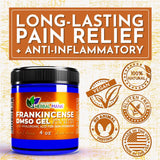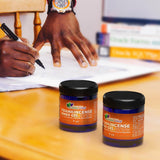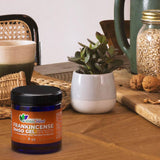 Frankincense DMSO Gel with Hyaluronic Acid
Only 594 pieces in stock!
Unleash the Power of Nature with our Frankincense DMSO Gel
Are you tired of chronic stress and pain ruling your life? It's time to reclaim control with our all-natural, sustainably sourced Frankincense DMSO Gel!
Our premium gel harnesses the power of pure therapeutic grade frankincense oil, known for its stress-relieving properties and its ability to boost your immune system. Enhanced with DMSO, it provides a potent solution that not only reduces inflammation but also supports skin health.
Experience faster relief than ever before with our easy-to-apply gel that makes everyday stress and pain a thing of the past!
DMSO for Targeted, Fast-Acting Relief
Our gel includes DMSO, a fast-acting absorption ingredient that accelerates relief time. This 99.995% pharma grade pure DMSO offers targeted relief for joint pain, arthritis, back pain, and more. Simply apply directly to the skin or dilute for a customized strength.
Fast-Acting Pain Relief: DMSO is renowned for its ability to quickly alleviate pain and inflammation.
Reduces Inflammation: DMSO possesses anti-inflammatory properties that help reduce swelling and inflammation in the body.
Enhances Absorption: DMSO acts as an excellent carrier substance, enhancing the absorption of other ingredients, thereby boosting their effectiveness.
Promotes Healing: It stimulates the healing process, especially in cases of minor wounds and burns.
Relieves Arthritis Symptoms: DMSO can alleviate pain and inflammation caused by arthritis, providing comfort and improved mobility.
Muscle Relaxant: DMSO has been shown to relax muscles, reducing spasms and associated pain.
Nerve Pain Relief: It can help alleviate symptoms of nerve pain, providing relief to those suffering from conditions like neuralgia.
Skin Health: DMSO can help relieve skin conditions such as scleroderma and may help wounds heal faster.
Experience the profound benefits of DMSO with our premium product and boost your overall health and wellness!
Pure Therapeutic Grade Frankincense
We infuse each batch of our gel with Pure Therapeutic Grade Frankincense. Known for its stress-relieving, mood-balancing, and inflammation-reducing properties, it is a powerhouse ingredient that transforms our gel into a superior, fast-acting product.
Stress Relief: Frankincense Essential Oil is known for its calming properties, making it ideal for relaxation and stress relief.
Boosts Immune System: Frankincense can strengthen the immune system by killing harmful germs and bacteria.
Reduces Inflammation and Pain: It has powerful anti-inflammatory properties, which can alleviate joint pain and arthritis symptoms.
Promotes Healthy Skin: Frankincense is known to rejuvenate skin, reduce wrinkles, and improve skin tone.
Healing Properties: It can help heal wounds, cuts, and scars, and it's also known to reduce the appearance of stretch marks and other skin imperfections.
Enhances Mood: The warm, spicy aroma of Frankincense oil can help uplift mood, reduce feelings of anxiety and mental fatigue.
Improves Sleep Quality: It promotes relaxation and a restful sleeping environment, making it a natural remedy for insomnia.
With our Frankincense infused product, you can harness these myriad benefits for both your physical and emotional well-being!
Hyaluronic Acid for Skin Hydration and Regeneration
Deep Hydration: Hyaluronic Acid is a powerful humectant, which means it draws water to the skin and helps keep it hydrated and dewy.
Wrinkle Reduction: By boosting skin's moisture content, Hyaluronic Acid revitalizes skin's outer layers so they look and feel softer, smoother, and radiantly hydrated, thereby improving the appearance of fine lines and wrinkles.
Enhanced Elasticity: Hyaluronic Acid helps to maintain skin elasticity and firmness by promoting collagen and elastin production.
Skin Healing: It's beneficial for skin healing and can help reduce skin inflammation, irritation, and redness.
Improved Skin Texture: By providing intense hydration, Hyaluronic Acid creates a plump, youthful skin texture.
Protection from UV Damage: Hyaluronic Acid is an antioxidant, which means it can help to neutralize harmful free radicals caused by UV exposure.
Suitable for All Skin Types: Whether your skin is oily, dry, sensitive, or acne-prone, Hyaluronic Acid can provide hydration without adding oiliness or causing breakouts.
Experience the benefits of Hyaluronic Acid with our product today and bring a revolutionary change to your skincare routine!
Aloe Vera for Skin Health
Natural Soothing Effect: Aloe Vera is known for its soothing and cooling properties, making it excellent for calming skin irritations.
Promotes Skin Health: Aloe Vera is packed with antioxidants and vitamins A and C, which can help improve your skin's health and brightness.
Hydrates the Skin: Aloe Vera's water-dense nature makes it a great natural hydrator, helping to moisturize dry skin.
Supports Wound Healing: Aloe Vera has been used for centuries to expedite the healing process of cuts, burns, and other skin injuries.
Anti-Aging Properties: Aloe Vera can reduce the appearance of fine lines and wrinkles, helping to keep your skin looking youthful and radiant.
Acne and Inflammation Relief: Aloe Vera has anti-inflammatory and antibacterial properties that can help reduce acne and skin inflammation.
Helps Reduce Sunburn: Aloe Vera is well-known for its ability to soothe and reduce the discomfort of sunburned skin.
Suitable for All Skin Types: Whether your skin is oily, dry, or sensitive, Aloe Vera can benefit your skin without causing further issues.
Add our Aloe Vera infused product to your daily routine and experience these numerous benefits for yourself!
Premium Quality with Exceptional Packaging
Quality is our priority. We package our DMSO in UV resistant, reusable glass bottles, maintaining the integrity of our premium product. Sealed to prevent tampering, these bottles ensure an extended shelf life, upholding our commitment to excellence.
All our ingredients are 100% sustainably sourced, ensuring that we're as kind to the planet as we are to your body and mind.
Join the thousands who have found instant relief and tranquility with our Frankincense DMSO Gel. Start your journey towards a stress-free, pain-free life today!
Experience the combined power of Frankincense, DMSO, Hyaluronic Acid, and Aloe Vera in our new and improved formula. Try our Frankincense DMSO Gel with Hyaluronic Acid today and witness a revolution in your skincare and wellness regime!
Directions
Clean the area you'd like to apply Frankincense DMSO gel with soap and water. Apply the Frankincense DMSO gel daily and as needed for pain. Wash hands & application site before use. For topical use only. Slight skin irritation may occur, but is temporary and lessens as your skin gets used to the gel. If irritation persists, rinse with warm water.
Ingredients
DMSO (99.995% Pharmaceutical Grade), Organic Aloe Vera Juice, Frankincense Essential Oil (Boswellia Carterii, Frereana, Sacra), Hydrated Silica (USP Grade), Hyaluronic Acid (Non-GMO)
Essential Oil Benefits
Infused with Pure Therapeutic Grade Essential Oils
Frankincense: Helps relieve stress, boost the immune system, reduce pain and inflammation, supports healthy cellular function, and helps balance mood. 
Disclaimers
*The statements made regarding these products have not been evaluated by the Food and Drug Administration. The efficacy of these products has not been confirmed by FDA-approved research. These products are not intended to diagnose, treat, cure or prevent any disease. All information presented here is not meant as a substitute for or alternative to information from health care practitioners. Please consult your health care professional about potential interactions or other possible complications before using any product. The Federal Food, Drug and Cosmetic Act requires this notice. The individuals providing testimonials on this site experienced extraordinary results while using these products. As individuals differ, so will results. They were not paid for their testimonies.