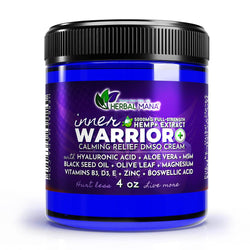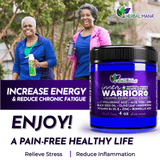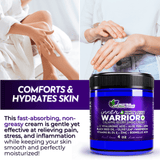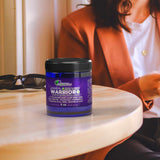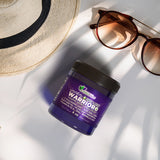 Inner Warrior+ Calming Relief DMSO Cream (5000mg)
Only 190 pieces in stock!
Do you struggle with debilitating nerve pain, muscle pain, or inflammation? Have you been searching for a natural solution to your pain?
If the answer is yes… look no further!
Introducing Inner Warrior+ Calming Relief DMSO Cream!
This cream combines high-quality ingredients like DMSO, full-strength hemp oil, and a calming blend of essential oils to get you back to living your life your way with less pain and more energy than ever before!
Inner Warrior+ is a 100% natural, fast-acting pain relief cream designed with our #FibroWarriors in mind. Ingredients such as Hemp oil, Vitamins B12, D3 & E, Lavender, MSM, and Magnesium make this the superior blend for widespread pain and exhaustion associated with painful disorders like Fibromyalgia.
This fast-absorbing, non-greasy cream is gentle yet effective at relieving pain, stress, and inflammation while boosting energy, so you can get back to doing the things you love without painful interruptions.
You deserve long-lasting relief without harmful side effects or the potential for addiction. Release your inner warrior, it's time to hurt less and live more!
Grab your bottle of Inner Warrior+ today and experience calming relief in 5 minutes or less!
NEW & IMPROVED FORMULA:  We've made Inner Warrior better than ever with 5x the essential oils, 5000mg hemp oil, and skin-nourishing ingredients like hyaluronic acid, aloe vera, black seed oil, and more! Making this blend highly effective at relieving fibro, nerve, muscle, neuropathy, and joint pain while keeping your skin smooth and perfectly moisturized!
INCREASE ENERGY & REDUCE CHRONIC FATIGUE: Featuring a unique blend of vitamins & minerals, Inner Warrior+ helps increase energy naturally while reducing chronic pain and stress. This means not only will you find the sleep of your dreams, you'll wake up ready to take on the day! (And it smells great too!)
100% NATURAL FULL-STRENGTH HEMP: Hemp has been shown to help reduce stress and anxiety, relieve pain and inflammation, promote sleep, and much more! When combined with DMSO you enjoy maximum strength relief without needing to use as much as any other hemp cream. Making it easier on you and your wallet!
COMFORTS & HYDRATES SKIN: Formulated with pure, natural moisturizers like hyaluronic acid, olive leaf, and black seed oil for maximum hydration! This light and smooth DMSO cream is easy to apply and absorbs quickly. So you can enjoy the relief you deserve without worrying about pesky dry skin.
PREMIUM QUALITY & RESPONSIBLY SOURCED: Inner Warrior+ Cream is made only with responsibly sourced ingredients. It's 100% natural, paraben, chemical, gluten, and cruelty-free! With pharma-grade DMSO, magnesium chloride, MSM powder, pure therapeutic-grade essential oils, organic aloe vera, shea butter, and more, you can relax knowing you're getting the best and taking care of our environment too!
Directions
Clean the area you'd like to apply Inner Warrior+ cream with soap and water. Apply the cream daily and as needed for pain. Wash hands & application site before use. For topical use only. Slight skin irritation may occur, but is temporary and lessens as your skin gets used to the cream. If irritation persists, rinse with warm water.
Ingredients
Organic Aloe Vera Juice, DMSO (99.995% Pharma Grade), Pure Inner Warrior Essential Oils (Lavender, Vetiver, Marjoram, Frankincense, Myrrh, Roman Chamomile, Geranium, Ginger, Rose), Rose Hydrosol, Organic Shea Butter, Natural Emulsifying Wax, MSM Powder (USP Grade), Arrowroot Powder (Non-GMO), Organic Cocoa Butter, Organic Black Seed Oil, Organic Coconut Oil, Magnesium Chloride (USP Grade), Vitamin B3 (Niacinamide | USP Grade), Organic Jojoba Oil, Organic Castor Oil, Full-Strength Hemp+ Extract (5000 mg), Hyaluronic Acid, Boswellia Gum Extract, Vitamin D3 (Cholecalciferol | Non-GMO), Vitamin E (D-alpha Tocopherol | USP Grade), Olive Leaf Extract, Zinc Oxide (USP Grade), Vitamin B12 (Methylcobalamin)
Essential Oil Benefits
Infused with Pure Therapeutic Grade Essential Oils
Lavender: May help soothe irritated skin and sore muscles, relieve stress, and promote a good night's sleep.
Vetiver: Ability to boost energy levels, soothe anxiety, provide a calming and grounding effect on emotions, relieve stress, and relax the brain and body.
Marjoram: May help reduce pain, provide more restful sleep, reduce stress and anxiety, calming, and ability to have a positive effect on the nervous system, and may help promote a healthy cardiovascular system.
Frankincense: Helps relieve stress, boost the immune system, reduce pain and inflammation, supports healthy cellular function, and helps balance mood.
Myrrh: Aids in pain and inflammation relief, promotes healing, emotional balance, well-being, and boosts mood. It's also a powerful antibacterial, boosts the immune system, and soft, healthy skin!
Roman Chamomile: Calming, anti-inflammatory benefits, muscle relaxer, can help create feelings of comfort, soothing, may promote restful sleep.
Geranium: Can help reduce pain, promote the appearance of healthy skin, antiseptic (may speed up healing), uplifting, and may provide a grounding and calming effect for emotions.
Ginger: May help reduce dizziness or nausea, pain, muscle spasms, and inflammation; calming and soothing aroma may create a feeling of balance.
Rose: Reduces skin imperfections and promotes an even healthy-looking complexion. Its sweet-smelling aroma may help soothe stress and anxiety and reduce pain and inflammation.
Disclaimers
*The statements made regarding these products have not been evaluated by the Food and Drug Administration. The efficacy of these products has not been confirmed by FDA-approved research. These products are not intended to diagnose, treat, cure or prevent any disease. All information presented here is not meant as a substitute for or alternative to information from health care practitioners. Please consult your health care professional about potential interactions or other possible complications before using any product. The Federal Food, Drug and Cosmetic Act requires this notice. The individuals providing testimonials on this site experienced extraordinary results while using these products. As individuals differ, so will results. They were not paid for their testimonies.