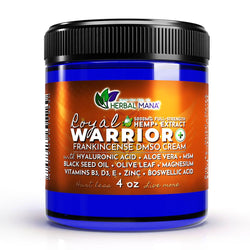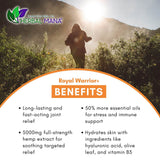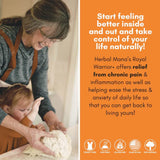 Royal Warrior+ Frankincense DMSO Cream (5000mg)
Only 89 pieces in stock!
Say Goodbye to Pain and Hello to All-Natural Relief with Royal Warrior+ Cream with Hemp!
Are you tired of joint pain, inflammation, or stiff muscles constantly getting in your way? Is stress making it even harder to get through the day? If you've been on the hunt for a fast-acting, all-natural solution, your search ends here.
Herbal Mana proudly introduces the Royal Warrior+ Cream with Hemp, our most potent yet gentle blend to date, made with 100% sustainably sourced, cruelty-free Frankincense DMSO!
Unparalleled Blend for Unmatched Relief
This powerful formula combines DMSO, Hemp, and Frankincense — three power-packed ingredients that when synergized, transform into an unrivaled product for natural, effective pain and stress relief.
This non-greasy, fast-absorbing cream penetrates deep into your muscles, delivering extra strength, long-lasting relief to help you get back to your life without any painful interruptions.
New & Improved Formula
Our Royal Warrior+ Cream now comes in an even better formula, featuring skin-nourishing and hydrating ingredients like hyaluronic acid, aloe vera, black seed oil, olive leaf, and vitamins B3, D3, E, and zinc. This potent blend reduces skin irritation, keeping your skin smooth, perfectly moisturized, and healthy — even if you have sensitive skin!
Instant, Long-lasting Pain Relief
Formulated with 99.995% Pharma Grade DMSO, our Royal Warrior+ Cream absorbs quickly, offering targeted pain relief exactly when and where you need it. Compact and easy to carry, it's your perfect companion for superior relief anytime, anywhere!
100% Natural Full-Strength Hemp
We use full-strength Hemp, renowned for its multitude of benefits including stress and anxiety reduction, pain and inflammation relief, and promoting quality sleep. When combined with DMSO, you enjoy maximum strength relief without needing to use as much as any other hemp cream, saving both time and money!
Comforts & Hydrates Your Skin
Our cream is enriched with pure, natural moisturizers like hyaluronic acid, olive leaf, and black seed oil for maximum hydration! Its lightweight, non-greasy formula makes it easy to apply and quick to absorb, leaving you with supple skin, free of dryness and discomfort.
Eases Stress & Calms the Mind
Our Royal Warrior+ Cream is powered by 100% pure, therapeutic-grade Frankincense oils that soothe stress and anxious thoughts, bring clarity to the mind, balance moods, reduce inflammation, and boost your immune system! It's holistic wellness, packaged just for you.
---
Don't let pain or stress keep you from living your best life. Grab your bottle of Royal Warrior+ Cream with Hemp today and experience relief in 5 minutes or less!
Directions
Clean the area you'd like to apply Royal Warrior+ cream with soap and water. Apply the cream daily and as needed for pain. Wash hands & application site before use. For topical use only. Slight skin irritation may occur, but is temporary and lessens as your skin gets used to the cream. If irritation persists, rinse with warm water.
Ingredients
Organic Aloe Vera Juice, DMSO (99.995% Pharma Grade), Pure Therapeutic Grade Frankincense Essential Oils (Boswellia Carterii, Frereana, Sacra), Organic Shea Butter, Natural Emulsifying Wax, MSM Powder (USP Grade), Arrowroot Powder (Non-GMO), Organic Cocoa Butter, Organic Black Seed Oil, Organic Coconut Oil, Magnesium Chloride (USP Grade), Vitamin B3 (Niacinamide | USP Grade), Organic Jojoba Oil, Organic Castor Oil, Full-Strength Hemp+ Extract (5000 mg), Hyaluronic Acid, Boswellia Gum Extract, Vitamin D3 (Cholecalciferol | Non-GMO), Vitamin E (D-alpha Tocopherol | USP Grade), Olive Leaf Extract, Zinc Oxide (USP Grade)
Essential Oil Benefits
Infused with Pure Therapeutic Grade Essential Oils
Frankincense: Helps relieve stress, boost the immune system, reduce pain and inflammation, supports healthy cellular function, and helps balance mood. 
Disclaimers
*The statements made regarding these products have not been evaluated by the Food and Drug Administration. The efficacy of these products has not been confirmed by FDA-approved research. These products are not intended to diagnose, treat, cure or prevent any disease. All information presented here is not meant as a substitute for or alternative to information from health care practitioners. Please consult your health care professional about potential interactions or other possible complications before using any product. The Federal Food, Drug and Cosmetic Act requires this notice. The individuals providing testimonials on this site experienced extraordinary results while using these products. As individuals differ, so will results. They were not paid for their testimonies.